NEWS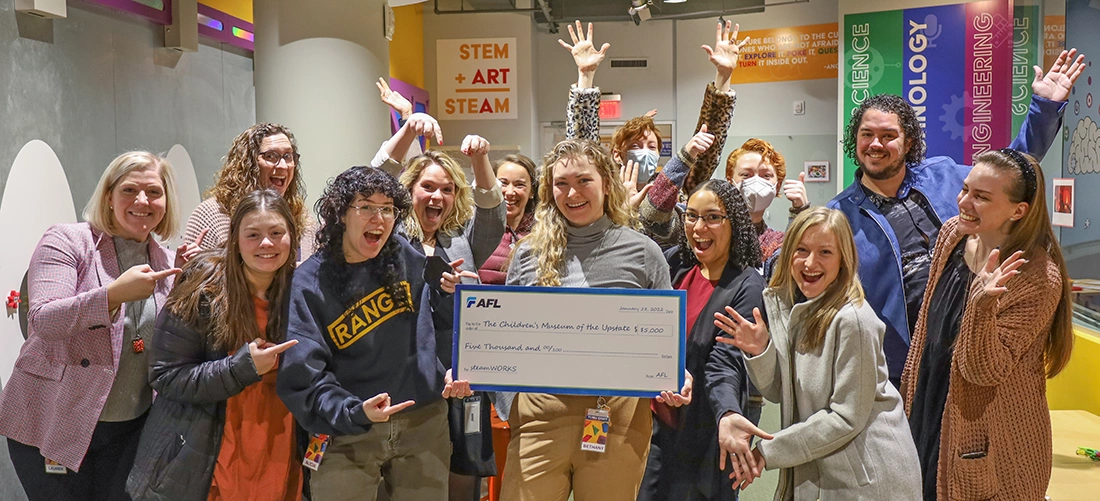 AFL Awards $50K+ Grants to 10 Upstate SC Organizations
31/01/2022
Spartanburg, SC – AFL presented $51,000 in community grants to ten organizations in the Upstate of South Carolina. Made possible by AFL's Community Outreach Program, the organization's programs align with AFL's three focus areas including STEM Education, Youth Development and a new focus area called LEAP (Life Enrichment & Advancement Programs) which supports adults pursuing employment and self-sufficiency.

Pictured above is The Children's Museum of the Upstate, one of 10 grant recipients.

Recipients of the winter grant cycle include:

March of Dimes South Carolina – funding supports training for the NICU Family Support Coordinator and educational materials for NICU programs in South Carolina.

Greenville Tech Foundation – the grant supports one-time financial assistance to STEM degree students for financial emergencies that would prevent a student from continuing their education.

The Advanced Institute for Development and Learning – funding supports training costs and educational materials for families.

Spartanburg Science Center – funding supports a virtual program called, "Out of the Lab with…" and targets students third grade and up on becoming a scientist. This program is an extension of a 2020 grant issued by AFL to purchase virtual studio equipment at the beginning of the pandemic.

Momentum Bike Clubs – this grant supports a program called Artistically Reshaping Trauma (A.R.T.+) Circles, a group-mentoring program that uses art forms to build community.

Public Education Partners – funding supports the Elevate Teachers suite of programming that focuses on strengthening teacher recruitment, retention and morale.

Miracle Hill Ministries – this grant supports the Jobs for Life Employment Training for Homeless Men, ages 18 and older, who reside at the Greenville Rescue Mission, a 130-bed emergency shelter. Funding will be used to expand the program to two classes per year with 12 students and 12 mentors in each class.

Upstate Family Resource Center – funding supports the Pathway to Progress program which is designed to assist families as they overcome barriers that impact financial stability.

The Children's Museum of the Upstate – funds support the interactive steamWORKS lab which challenges children and families to problem solve through building activities, conducting science experiments, exploring math and creating art.

AFL has an extensive Community Outreach Program that provides grants, sponsorships, associate engagement projects, disaster relief and more. For additional information on AFL and its community initiatives, visit www.AFLglobal.com.

About AFL
Founded in 1984, AFL is an international manufacturer providing end-to-end solutions to the energy, service provider, enterprise, hyperscale and industrial markets. The company's products are in use in over 130 countries and include fiber optic cable and hardware, transmission and substation accessories, outside plant equipment, connectivity, test and inspection equipment, fusion splicers and training. AFL also offers a wide variety of services supporting data center, enterprise, wireless and outside plant applications.

Headquartered in Spartanburg, SC, AFL has operations in the U.S., Mexico, Canada, Europe, Asia and Australia, and is a wholly owned subsidiary of Fujikura Ltd. of Japan. For more information, visit www.AFLglobal.com. Follow us on LinkedIn, X, Facebook, and read our blog.
Contact
Corie Culp
Public Relations Manager, AFL
864.433.5409
Corie.Culp@AFLglobal.com