NEWS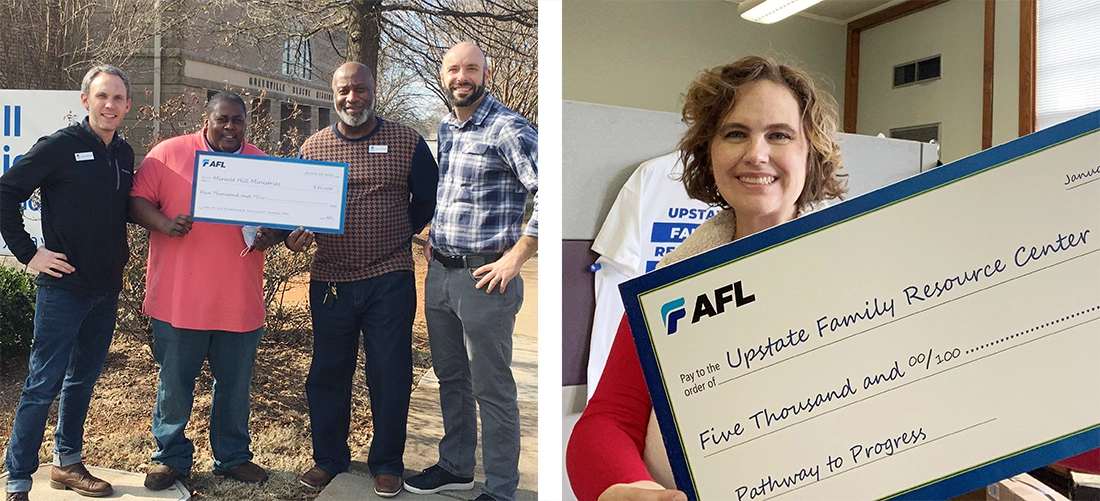 AFL Supports Job Readiness with Two $5,000 Grants Serving Upstate SC
23/03/2022
Spartanburg, SC – AFL, a manufacturer of fiber optic cable, connectivity and equipment, awarded two grants totaling $10,000 to Miracle Hill Ministries and Upstate Family Resource Center. Made possible by AFL's Community Outreach Program, the organization's programs align with AFL's new focus area called LEAP (Life Enrichment & Advancement Programs) which supports adults pursuing employment and self-sufficiency.

Miracle Hill Ministries, an organization that provides shelter, food and comprehensive care for children and adults experiencing homelessness, received a $5,000 grant for its Jobs for Life (JFL) Employment Readiness Training program. The Greenville Rescue Mission piloted JLF in 2021 to help homeless men who have significant employment barriers. Certified, volunteer instructors lead an eight-week course and take students through a nationally recognized curriculum, covering topics such as identifying roadblocks, vocational assessment and planning, character development, public speaking and interviewing skills, answering difficult questions, employer expectations, and much more. Each student is paired with a mentor who walks alongside the student and provides encouragement and accountability as he grows personally and professionally. Funding from AFL will expand the Greenville Rescue Mission's JLF employment readiness program to two classes per year with 12 students and 12 mentors in each class.

Upstate Family Resource Center (UFRC), an organization whose mission is to achieve a healthier and more prosperous community by providing educational opportunities, engaging activities and support services to help families thrive, received a $5,000 grant for its Pathways to Progress program. The program is designed to assist families as they overcome barriers that impact financial stability. Funding will be used for partial salary support and will help design and develop a series of Micro-Learning Videos to be broadcast on UFRC's YouTube channel. The video series will be an educational tool for families and the community as individuals share information on financial habits, decision-making, parenting, and more. UFRC aims to provide clear education paths for adults without high school diplomas and develop career strategies with the individual's goals given priority.

AFL's Community Outreach Program includes grants, sponsorships, volunteer and environment initiatives, disaster relief, scholarships and more. For additional information on AFL, its products and services, visit www.AFLglobal.com.

About AFL
Founded in 1984, AFL is an international manufacturer providing end-to-end solutions to the energy, service provider, enterprise and industrial markets as well as several emerging markets. The company's products are in use in over 130 countries and include fiber optic cable and hardware, transmission and substation accessories, outside plant equipment, connectivity, test and inspection equipment, fusion splicers and training. AFL also offers a wide variety of services supporting data center, enterprise, wireless and outside plant application.

Headquartered in Spartanburg, SC, AFL has operations in the U.S., Mexico, Canada, Europe, Asia and Australia, and is a wholly owned subsidiary of Fujikura Ltd. of Japan. For more information, visit www.AFLglobal.com. Follow us on LinkedIn, X, Facebook, and read our blog.
Contact
Corie Culp
Public Relations Manager, AFL
864.433.5409
Corie.Culp@AFLglobal.com