AFL is proud to partner with Sonoco's EcoReel® Recycling Program, the most comprehensive and cost- effective nailed wood reel recycling program in the industry, to provide a free removal service for AFL customers. For more than 20 years, Sonoco's EcoReel program has worked to divert wooden reels from landfill by pick-up, repair, and refurbish of reels before returning into circulation for reuse.
In one five-year period, the EcoReel program has:
Received nearly two billion pounds of reels for recycling
Saved end-users more than $36 million in disposal costs
Protected more than 300,000 trees
IT'S EASY TO RECYCLE REELS TO REDUCE LANDFILL SPACE AND CHARGES
1To schedule a full truckload pickup, call 888-ECO-REEL or email EcoReel@Sonoco.com. Sonoco will send a 53' truck to your location.
2Your people load the truck with good-condition reels according to Sonoco guidelines.
It's that simple.
ADDITIONAL GUIDELINES
Due to transportation costs, the service is offered mainly to locations on the East Coast and Midwest. For Mountain Region and West Coast customers, contact Sonoco. The service may be available on a case-by-case basis, depending on reel type and transportation costs.
FREQUENTLY ASKED QUESTIONS
Q: We have less than a full truckload. Will Sonoco pick up the reels?
A: The service is offered only for full truckloads. See chart to the right for the expected number of reels per truckload. Other reel sizes may also be considered.
Q: I have reels other than AFL reels. Can I load these?
A: Possibly. Contact Sonoco for more information. The EcoReel representative will work with you to determine if what you have is acceptable or not.
Q: What is a "good condition" reel?
A: Reels do not have to be in pristine condition but must be repairable for a cost low enough to enable it to be reused. Scuffs, scratches, dents and weathered wood are okay. Reels must meet the following standards:
Must be a nailed wood or polyfiber reel. No plywood reels are recyclable.
Arbor holes must not be damaged.
Drive holes must not be torn out.
The lumber must be sound (not rotting or showing excessive deterioration).
The flanges should not have broken boards (broken edge boards are permitted thru one ply only).
The flanges must not be excessively warped (if the reel is visibly warped, i t is not reusable).
The flanges must be at least 1-1/2" thick and not less than 30" in diameter.
Approximately 75% of the stave boards that make up the drum must be intact.
The reels are to be empty of any cable, except for the tie-down end piece.
Q: What reports are available?
A: Customer reports are available for number of reels returned, disposal cost, landfill space avoided, and number of trees saved. Contact AFL for more details.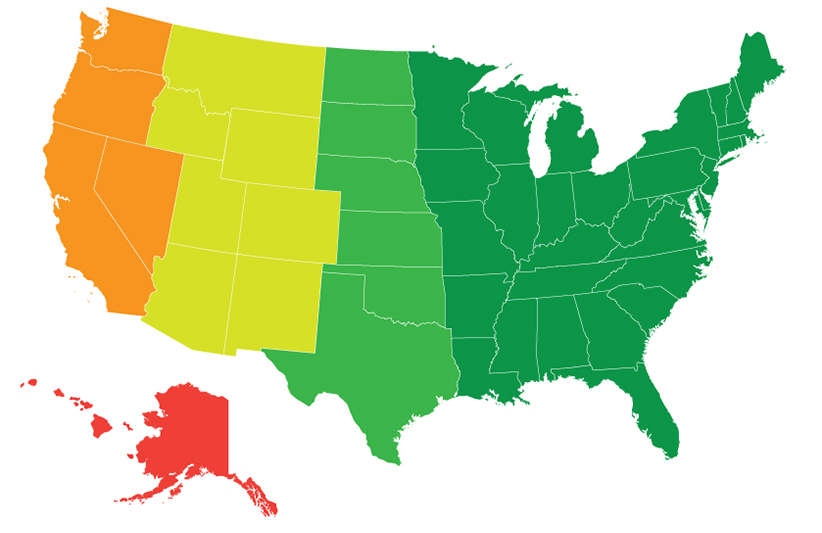 How Many Reels Should Fit in a 53-Foot Van?
---
Diameters
Flange in. (mm)
Drum in. (mm)
Traverse Length in. (mm)
Maximum Number of Reels
58 (1,473)
28 (710)
32(810)
56
66 (1,676)
36 (914)
36 (914)
24
72 (1,829)
36 (914)
36 (914)
22
84 (2,134)
35 (890)
34 (860)
9