BLOG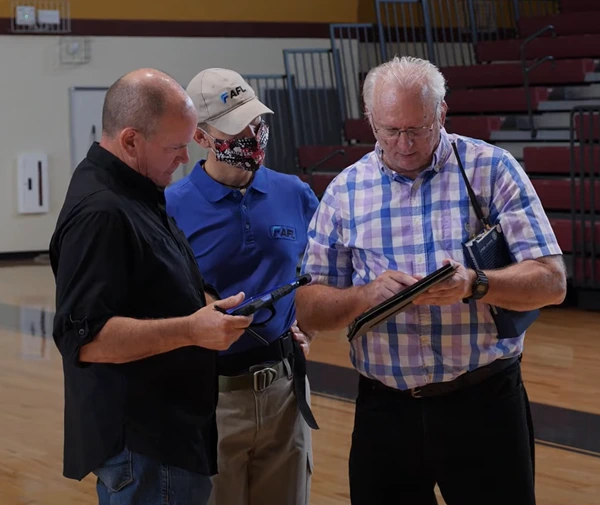 AFL Helps Ensure First Responders Stay Connected in Emergencies
03/13/2017
As the public safety sector begins to grow, there's an increased need for systems that strengthen in-building connections to ensure the safety of first responders. For them, communication is their lifeline, so disruptions in signal can be fatal.


Pictured above from left to right: Chief Alan Perdue of the Safer Buildings Coalition™, Tre Barton of AFL and David Adams of PCTEL®
AFL partnered with PCTEL®, a global provider of test and measurement solutions, to perform a series of demonstrations for the Safer Buildings Coalition™ (SBC), a not-for-profit organization that promotes legislation and education on the importance of in-building public safety systems. PCTEL offers software that supports many of AFL's Public Safety Distributed Antenna System (DAS) installations. Specifically designed for first responders, a Public Safety DAS optimizes communication and enables a constant connection among first responders and those outside in times of crisis. In these installations, AFL uses one of PCTEL's software suites that tests and studies the signal strength within a building.
When SBC requested a live demonstration of this, PCTEL then asked AFL to demonstrate it based on AFL's relationships with the surrounding schools, familiarity with the software as well as our knowledge and experience of installing wireless and DAS networks. The demonstration was performed at Harding University High School located in Charlotte, North Carolina. Harding University High School was one of 20 schools in the Charlotte area that AFL has installed a Public Safety DAS in the past few years.
"AFL has predominately installed large commercial DAS installations in cities, buildings and stadiums, but as the public safety sector really starts to grow, we are beginning to see more of a need for systems like these," said David Wiginton, Vice President of Wireless Services at AFL. "We recognized the importance of this growing market and are taking a more proactive role as public safety becomes more prominent."
When installing a DAS solution inside a building, it's critical that the signal inside is just as strong, if not stronger, than the one outside. A strong signal enables first responders to communicate in the stairwells, bathrooms, elevator shafts or any other place that an outdoor signal wouldn't normally reach. During this demonstration, AFL turned the system off and used PCTEL's software suite to test the in-building connection strength, which proved that "it's not just about software, but how the solution helps," continued Wiginton.
Together, AFL's expertise with Public Safety DAS installations coupled with PCTEL's software suite create a solution that helps strengthen and ensure the safety of first responders in public buildings.